Visit TexasReady.gov or Ready.gov to work with your family on a preparedness plan. You can also visit Brazos County's Emergency Preparedness Resources page for useful information.
Work with your whole family to make sure you're always ready for any emergency!
---
S.T.E.A.R
State Of Texas Emergency Assistance Registry: Do you or anyone you know need some assistance during times of an emergency event? The state of Texas presents the STEAR program. The STEAR program is a free registry that provides local emergency planners and emergency responders with additional information on the needs in their community. Texas communities use the registry information in different ways. Registering yourself in the STEAR registry DOES NOT guarantee that you will receive a specific service during an emergency. Available services will vary by community. Click here for more information. Click here to register.
---
Hurricane Resources
Click here to monitor hurricane activity.
---
COVID Resources
Centers for Disease Control and Prevention
Texas Health and Human Services | Department of State Health Services
2-1-1 Texas - When calling 2-1-1 pick option 6 for answers to medical questions
Brazos Valley Food Bank's COVID Relief Program: Project GotEM
Order Free At Home Test Kits: Click Here
State and Local COVID Numbers
General Public
Businesses
Essential Workers
---
Heat Awareness and Staying Cool
Summer is here and many Brazos County residents will be spending more time outdoors. Whether you are enjoying a cook out with friends, working in your garden, or swimming at Lake Bryan, always be aware of dangers associated with the Texas Heat. Here are some tips to help you stay cool and identify heat exhaustion, heat stroke, and other adversities caused by the Texas summer.
Staying Cool
Signs of Heat Exhaustion and Heat Stoke
Heat can be dangerous when you least expect it. Watch for signs of heat illness when you are working or playing outside.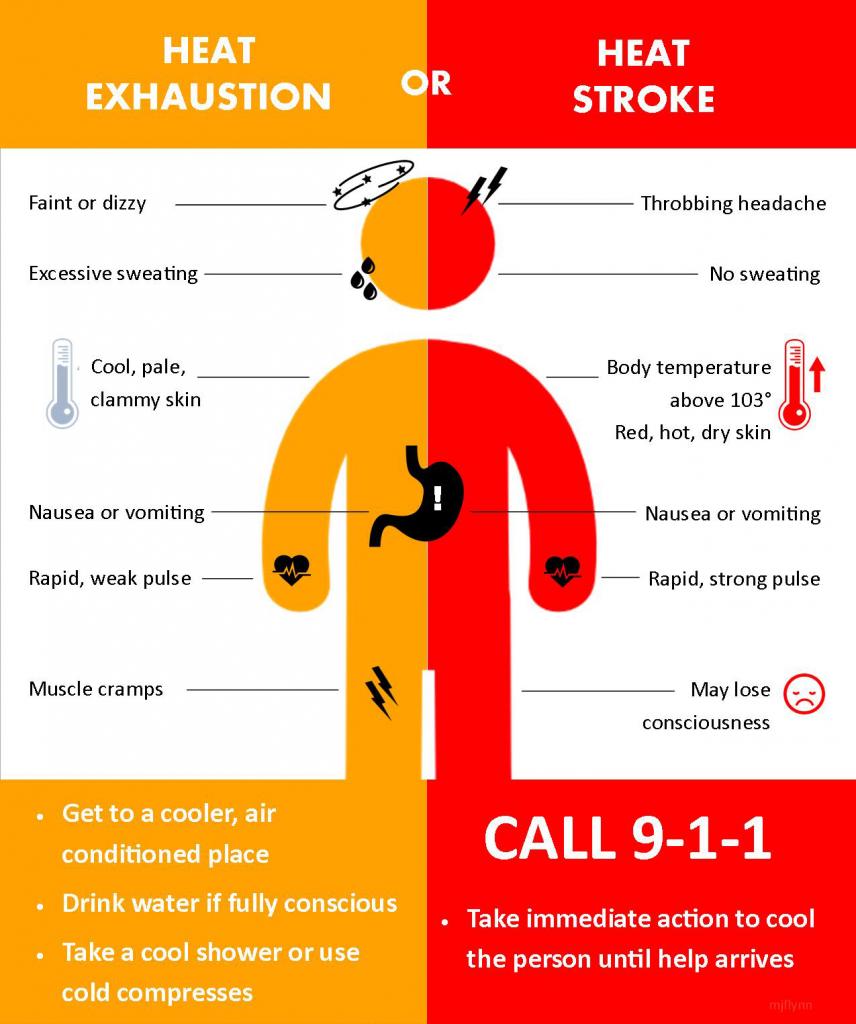 | Heat Stroke | Heat Exhaustion | Heat Cramps |
| --- | --- | --- |
| Signs: Throbbing headache; no sweating; red, hot, dry, skin; nausea or vomiting; rapid strong pulse, dizziness, confusion, unconsciousness; body temp 103˚or higher | Signs: Faint or dizzy; excessive sweating; cool, pale, clammy skin; nausea or vomiting; rapid, weak pulse, muscle cramps; heavy sweating, tiredness or weakness; headache; fainting | Signs: Heavy sweating during intense exercise; muscle pains or spasms in the stomach, arms or legs |
| Actions: Call 9-1-1.Take immediate action to cool the person until help arrives. | Actions: Move the person to a cooler location to sip water if fully conscious, loosen clothing, take a cool bath/shower or use cold compresses. If symptoms last longer than one hour or worsen, call 9-1-1. | Actions: Stop physical activity; drink water; wait for cramps to go away before you do any more physical activity; move to a cooler location. If cramps last longer than one hour, the person is on a low-sodium diet and/or the person has heart problems, call 9-1-1. |
Infants, children, older adults, outdoor workers, athletes and people with chronic medical conditions have a higher risk for heat-related illness. Refer to more heat safety tips from the Centers for Disease Control and Prevention.
More information to come. In case of emergency, call 9-1-1.
Water Safety Tips
When cooling off in pools and other bodies of water, be water-wise. Drowning is fast and silent. No one is drown-proof, but drowning is preventable. Prevent drowning-related incidents and learn water safety tips.